Test advanced digital technologies before investing
What is your activity?
I am a company

Are you an industrial company or a public entity that wants to gain competitiveness by incorporating advanced digital technologies?

I am a supplier

Are you a supplier or a technological start-up and want to validate your new technology products or services?
This opportunity might be of your interest…
The process
Learn about the advanced
digital technologies

Get some training

Test and experiment
WHAT DO WE BRING TO THE TABLE?
We advise, accompany and guide you, and much more
Search for partners and suppliers

The best partners for the future of your organization

Financial advice

A team of experts with you at all times

Business model and scalability advice

A global and effective analysis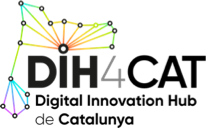 WHAT WILL YOU GET OUT OF THIS?

To know if a specific technology is the most suitable for your company, concept testing, prototypes, validation of new products and services, to be ready for implementation and scalability.

WHAT THEN?

You are ready to make the leap to implementation. The Catalan supplier ecosystem is very rich.

We guide you on how and with whom to do it!
Contact us
We will give you a personalized answer to your needs.
Contact